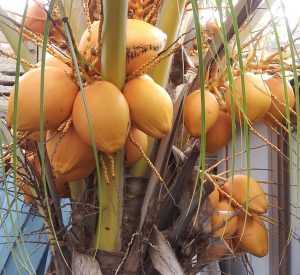 Each coconut comes from  trees that were rooted  from a coconut in Janis Jo's Key West garden! All coconuts are custom painted and never mass produced. The coconut is first primed with a base coat and carefully designed and hand painted by Janis. The ridges and shape of the coconut must always be considered so it does not interfere with the design. They are then signed and finished with a protective clear coat. They will last years if this process is followed carefully. Usually, orders can be completed within a week. For rush orders please call or email for price.
Tropical Painted Coconuts
Key West Painted Coconuts
Sports Team Logo Painted Coconuts

Football, Baseball, Soccer, Hocky Coconuts- Any Team Logo Painted on a Coconut! Any team logo can be painted. These are samples. If you don't see your team just email me or call 305 393-5079 and I will do it for you!
Custom Design Painted Coconuts
Your Logo on a Coconut! Inquire about painted coconuts with custom logos. Great for conventions, weddings, invitations, souvenirs and corporate swag.